Doesn't Rayver Cruz always look mabango?
Whether he comes from a ball game or a dance rehearsal or a taping, he is ready in case a lady wants to fling her arms around him.
What's his secret?
It turns out looking good and feeling good is a mindset that starts the minute he wakes up.
Rayver begins his day with a workout and a hearty breakfast.
"I usually start with a good healthy breakfast–fruits, oats, eggs–because this amps up my day.
"Keeping my body in shape is one of my top priorities, so I go to the gym to work out before any tapings or commitments," he says, adding that working out is a tried-and-tested way to boost his confidence and even his mood.
Next, he chooses his clothes well.
"I wear nice and appropriate clothes because this says a lot about one's character," he says. No doubt, a good outfit makes a good impression.
But what's a sharp outfit without good hygiene to match? Aside from looking presentable, Rayver advises that to stay fresh one should begin by practicing proper hygiene and good grooming.
This is where his laging mabango secret comes in.
"After I shower, I spray on my favorite cologne. It is important that I look clean and neat," he says.
His favorite? Blackwater Deo Mist, which costs only PHP120 (SRP for 100ml bottle). He makes sure to bring a bottle with him everywhere he goes to freshen up with any time.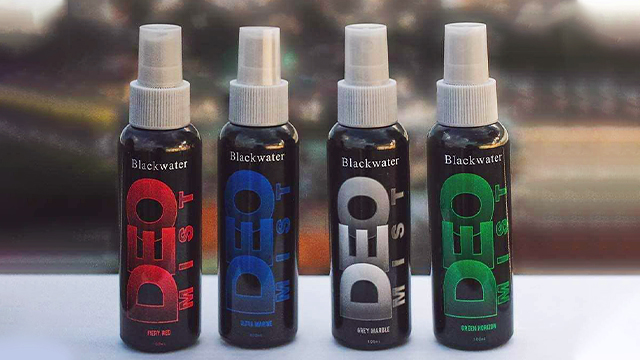 "Blackwater Deo Mist in Grey Marble is my favorite scent because it perfectly suits my personality," he says. The actor is drawn to Grey Marble's distinct blend of wood and musk notes.
"When you love the scent you spray on you, it makes you even more confident," he adds.
Rayver encourages men to follow this tip as it's easy to do and is affordable.
"For all the men out there, always make sure you bring with you the cologne that fits your personality. Choose the cologne that brings out the best in you. Keep it handy, so that you'll stay and feel fresh all day," he says.
Follow Blackwater Official on Facebook to find out more. Blackwater products are available in leading supermarkets, drugstores, department stores, and Ever Bilena counters nationwide.
SHARE THIS STORY